"When the show started it was such a different beast," she tells the new issue of ~
TV Guide
. "It was exciting and dangerous and funny and edgy and bizarre. It started feeling a little complacent, and that was very frustrating."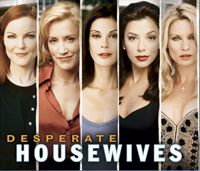 paling kanan skali!!! tu larr Eddie Britt... smu CLASS2 nyer pelakon...
(fakta:Eva Longoria 2 dari kanan dibayar 200k U$D per/episode!!!)
When told of her character Edie Britt's demise, "I said, 'OK, sayonara. It's been a great ride. Thank you,'" she tells the magazine.
She says she would've left sooner, but all the women were "contractually bound, so there was no way out on your own terms."
Still, "[Killing off Edie] was a risky decision that could have devastating ramifications," she warns creator Marc Cherry.
But, she adds, "Somebody up there really wanted her dead. I think whoever Edie represented in Marc's life was somebody he didn't like. And he had a very difficult time distinguishing between fact and fiction."
Sheridan also takes aim at Cherry for ignoring her, never adding her face to the opening credits and rarely speaking about her in interviews.
Says Sheridan, "When you have a jewel, why not polish it and put it out there for all to see?"
But Cherry insists Sheridan's character was no longer relevant on the show.
"Edie's already slept with most of the guys on the street and has caused about as many problems as she could," he says.
Plus, "There has been tremendous pressure put on me to cut costs ... the network is saying to all the shows, 'The company is really hurting financially. You must find a way to produce these shows more cheaply,'" he says.
With Sheridan gone, the show will save an estimated $100-200,000 per episode, according to TV Guide.
Asked about Sheridan's replacement, Cherry says, "We will find a new kind of sexiness coming through Wisteria Lane."
"What I won't do is cast another fortysomething sexy blonde," he adds. "[Sheridan] performed the aging, neighborhood tramp better than anyone has ever done before."
so, lil bit devastated larr!!! coz watak Edie Britt merupakan slh satu watak yg jalan kan cerita!!! btw, still love DESPERATE HOUSEWIVES(coz adew Marcia Cross)!!!
p/s:keep moving forward!!! Marc Cherry nak cut cos...

ALLIFF@biggest fan of DH... n Marcia Cross!!!